GOLEC uORKIESTRA / CLEO / MESAJAH / RAFAŁ BRZOZOWSKI / NATALIA KAWALEC / ZBUKU W CENTRAL PARKU ! POLISH AND SLAVIC PULASKI DAY MUSIC FESTIVAL !
2 October 2022 @ 3:30 pm

-

9:00 pm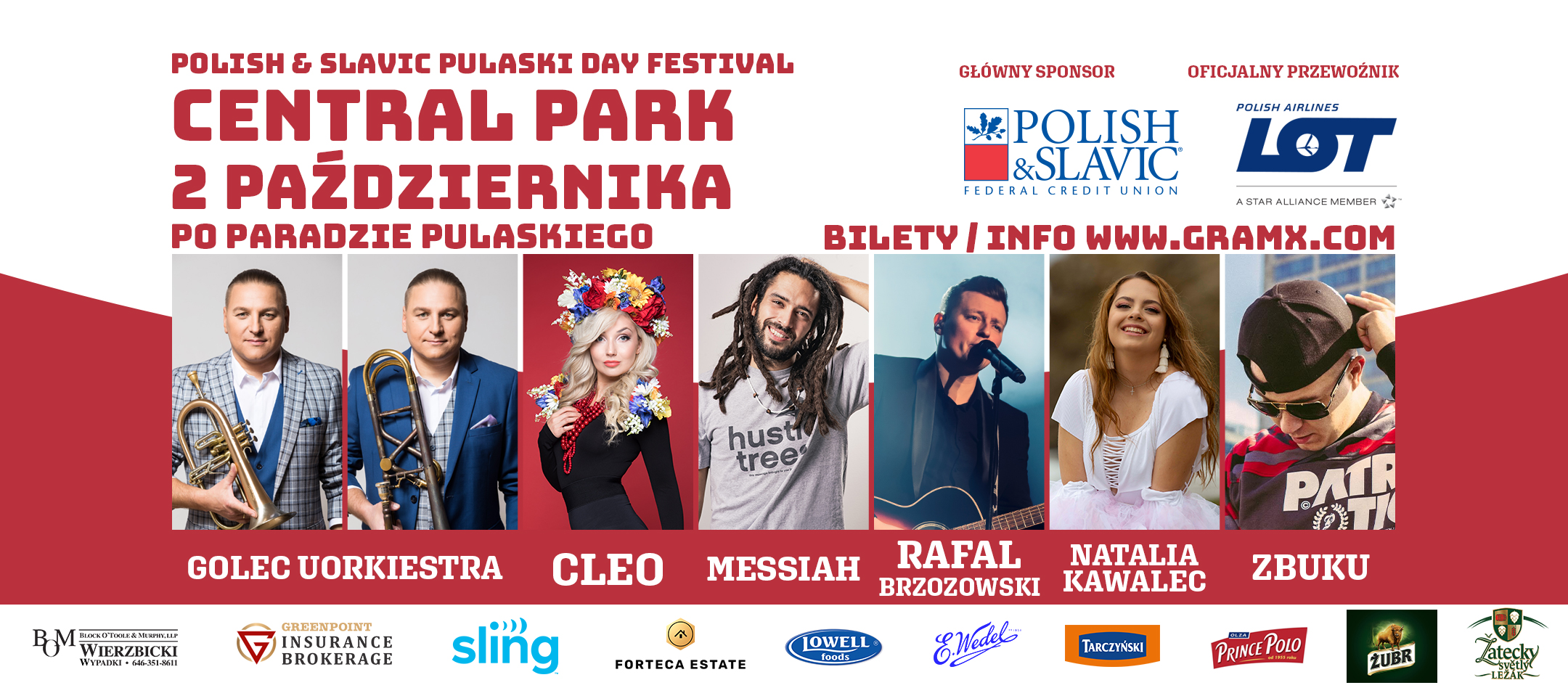 Golec uOrkiestra,  Cleo, Mesajah, Rafał Brzozowski , Zbuku i Natalia Kawalec  to artyści którzy wystąpią podczas Polish and Slavic Pulaski Day Music Festival który odbędzie się 2 Października, 2022 w Nowojorskim Central Parku. Festiwal rozpocznie się tuż po zakończeniu Parady Pulaskiego która po raz 85 przemaszeruje Piątą Aleją Manhattanu. Dzieci do 12 roku życia mają wejście za darmo a nastolatki pomiędzy 12- a 16 rokiem życia mają 50% zniżki. Bilety dla dzieci oraz nastolatków są dostępne we wszystkich oddziałach Polsko-Słowianskiej Federalnej Unii Kredytowej na terenach NY, PA i NJ. Aby otrzymać darmowe lub zniżkowe bilety należy posiadać konto w PSFCU. Wejścia na teren festiwalu otwarte będą już od godziny 15:30 a pierwsi artyści pojawią się na scenie o godzinie 16:30. Festiwal trwał będzie do godziny 21:00.  Sponsorem tytularnym festiwalu jest Polsko-Słowiańska Federalna Unia Kredytowa. Oficjalnym przewoźnikiem są  Polskie linie lotnicze LOT. Złotymi sponsorami są Greenpoint Insurance, Mecenas Wierzbicki, telewizja SLING, Lowell Foods, Forteca Real Estate oraz piwo Żubr i Zatecky.
Bilety na festiwal dostępne są pod linkiem: